This post contains affiliate links. We are a participant in the Amazon Services LLC Associates Program, an affiliate advertising program designed to provide a means for us to earn fees by linking to Amazon.com and affiliated sites.
Mother's Day is quickly approaching and don't worry we have you covered. If your Mom or Grandmother is a family history fan or genealogist, here are some great ideas that will make you her favorite!
DNA kits
DNA kits are a genealogists must have. They help validate a traditional family tree and also help breakdown family mysteries and brick walls. Here are some great sales for Mother's Day.
Sale ends May 13, 2019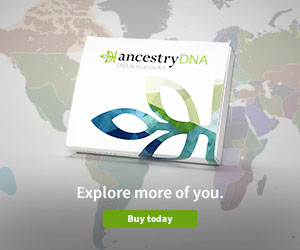 Sale ends May 13, 2019
FamilyTreeDNA
Sale ends May 13, 2019
Family History Gifts
Here is a round up of some unique gift ideas.
This family tree picture frame display's 10 hanging photo frames to show how your family tree has blossomed.

MuralMax canvas prints are personalized with your names and special date, making it a gift that will warm your heart every time you see it. Makes a beautiful wall decor for any family home while sharing your family milestone. Sizes range from 8×10 to 24×30 with other color options also available.
This necklace is handmade, nickel free and lead-free. This is a large circle wire wrapped pendant attached with non-tarnish chain. Different colors are available.
A beautiful pendant to show love and gratitude for an amazing nonbiological mother. It's a great gift for Step Mothers, Foster Mother and Mothers-in-law.

The Personalized Cutting Boards are finely crafted and custom engraved with our state of the art laser machine. Each wood board is made for special cut wood, sanded, and finished with food safe cutting board oil for excellent protection. The boards are engraved on one side which is meant for display while the other side can be used for cutting.
Books She Will Love
Genealogists are constantly looking to perfect their research and learn. These books are a great idea for anyone who loves family history and Genealogy.
The Family Tree Toolkit guides you on how and where to begin, what records are available both online and in repositories, what to do once you find the information, how to share your story and of course DNA discoveries.
Learn how to form an objective, review your research by creating a timeline analysis, construct a locality guide to direct your research, create a plan, style source citations, set up a research log to organize and track your searches, and write a report detailing your findings and ideas for future research. Work samples and templates are included.
Twenty-three genealogists collaborated to produce the first-ever textbook outlining professional standards and practices in the discipline of genealogy.
For those who've already taken DNA tests, this guide will demystify and explain how to interpret DNA test results, including how to understand ethnicity estimates and haplogroup designations, navigate suggested cousin matches, and use third-party tools like GEDmatch to further analyze data.
Inheritance is a book about secrets–secrets within families kept out of shame or self-protectiveness; secrets we keep from one another in the name of love.
Bill undertakes a quest to solve the mystery of his origins, which shakes his sense of identity. As he takes us on his journey, we learn about choices made by his ancestors, parents, and others, and we see Bill measure and weigh his own difficult choices as he confronts the past.
Written by an adoptee, this book describes how countless single women were compelled to give up their children and how their situations were devastatingly compromised by the growing sexual revolution, limited birth control options, unrealistic social standards, and the unavailability of safe abortions.
Subscriptions
There are many websites genealogists use to conduct their research. Consider buying your Mom a subscription to one of these valuable sites.
Ancestry.com has sophisticated engineering and technology that harnesses family history and consumer genomics, combining billions of historical records, millions of family trees, and samples from over 15 million people in the AncestryDNA database to provide people with deeply meaningful insights about who they are and where they come from. Ancestry also allows the option to give an Ancestry Gift Subscription.
MyHeritage is the leading global destination for discovering, preserving and sharing family history. Our platform and DNA kits make it easy for anyone, anywhere to embark on a meaningful journey into their past and treasure their family stories for generations to come. Our powerful technology does the searching for you, revealing fascinating new details about your family history — effortlessly.
Findmypast is a British-owned world leader in online genealogy. It has 18 million registered users across its family of online brands, which includes Findmypast, Genes Reunited, The British Newspaper Archive among others.
The records at Fold3 help you discover and share stories about these everyday heroes, forgotten soldiers, and the families that supported them.
Newspapers.com is the largest online newspaper archive consisting of 491 million+ pages of historical newspapers from 11,800+ newspapers from around the United States and beyond. Newspapers provide a unique view of the past and can help us understand and connect with the people and events.
GenealogyBank's 9,000+ historical newspapers include letters, speeches, opinion pieces, advertisements, hometown news, photographs, illustrations and more.
Happy Mother's Day to all the Mom's out there.
Be sure to sign up for our newsletter to stay up to date on what's happening around here.